Want to know what is the best FREE invoicing and time keeping app?
Free invoicing and time keeping research!
I am a Virtual Assistant in Australia. I track my time that I spend for my wonderful clients and then I create an invoice. Being able to track time is important as many clients will say "just spend 3 hours on that project".
Since WAVE (free invoicing app) decided to vote Australia off and not support us Aussies!! Most of us have been searching for an alternative. I must admit when I first started as a Virtual Assistant, I chose the WAVE app as I was just interested in the ability to create free invoices and keep track of incoming money. I didn't really think about what else is available and what apps could do. Such as customising invoices. So, I went on a hunt, searched high and low!!!
My search criteria – Free invoicing, that included free time tracking. The ability to track time and turn it into an invoice. Free free, no hidden costs, no catches, no free trial and then I get charged. Must have the ability to customise the invoice, no branding on the invoice from the app developer. Time tracking must be easy to use, must attach to a client and must be able to make notes. And last criteria, I need seconds and to see the timer work!
Doing a google / bing search on free invoicing and time keeping creates deceiving results and its very very annoying! The following list are the apps that are not free! They have a free trial! Or a little taste but not free free! Some aspects are free, and some have limited number of invoices and clients.
Here is my list of apps that I tested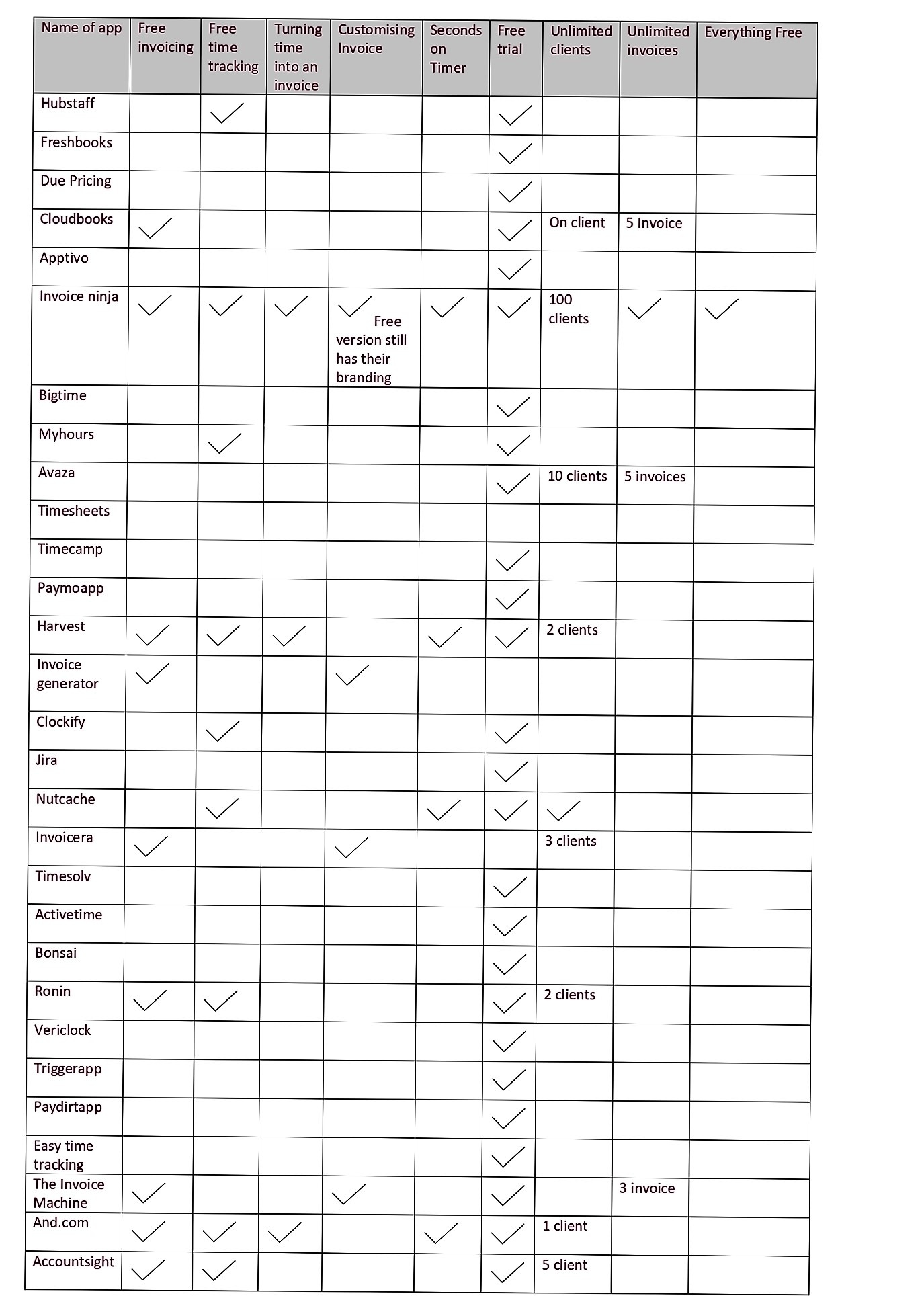 *NB:  The above table is correct at the time of research.
Here is a bit more detail on some apps. These apps were free to sign up. I made some general thoughts as to why the app didn't work for me as a Virtual Assistant. Some of the apps may work for you depending on your criteria.
Nijia invoicing
Somehow, I am already a member, I can't contact support via online. I can't add a logo or a footer. You need to give the timer a few seconds to start. It is quite simple to use. It seems I am logged in as a guest. On the free version, you can't produce reports. Annoying.
Harvest
Many people talk about this app and heaps of people recommend Harvest. A lot of Virtual Assistants use this app. Hard to find the login page on google. I went around and around to find it! In order to start tracking time, you need to create a project. The free version only allows 2 active projects. Each client will then have a project. For example, Joan of Arc (the client) sword throwing (project).Jane Austin (Client), transcribing (project). For me, I have several clients going at once. A little bit here and a little bit there. Though I am only using the timer for one client, I need to be able to start and stop throughout the day and then move to the next client. Basically, as a Virtual Assistant, I have 3 or 4 clients on the go in one day. It is the nature of the business. Harvest doesn't let you do this on the free version.
Avaza
Only 10 customers on the free version. If you click on projects, then add a project you can add customers. You can't just have a task; you need to have a project. This is where the system lost me, as you need to think about what you are doing and to name it correctly. Watch the VIDEO to learn, its only 5min!! I have more than 10 customers.
Cloudbooks
You can have one client LMAO! And do 5 Invoices!! On the free version.
The Invoice machine
Three invoices a month on the free version.
And.com
You can have one client on the free version. (yep cos that will work with me as a Virtual Assistant)
Accountsight
Five clients on the free version.
Todo.vu
Looks promising, I got stuck waiting for the free trail to end. I played a little with this app. It isn't too bad. You can create lots of tasks, all your to do's. And then, track the time allocated and send an invoice. I think it is worth spending some time, playing around. See if this works for you. It has big app branding on the free version. One of the issues I have with this app is that when you create your invoice, you can't edit. The invoice lists all the timings for the task. For example – (date), 7min, next line, (date), 10min. etc. It would be much easier for the client if its all added up in one line. As a VA, we often start and stop the clock, depending on the task. The task may only be 10min a day, the client just needs the total. You can edit at the front end at the task point, but for me, this inability to edit the invoice, annoyed me.
Time trex
Open source, doesn't include invoices on the free version.
Anuka
Looks good!!! Has great potential, but you need to understand computer language, it's an opensource model. Which means all the instructions are written by computer people. 😊.I emailed them to ask for better instructions, and bless them, as they advised me to hire someone. LOL
Toptracker
OK looks great.. BUT.You need to link your clients and they send you an invitation and… too complicated.
Aceinvoicing
Looks promising…."The web application does not have a stop watch. The stop watch is there in the mac desktop application. Adding a logo to an invoice is in our road map. We will be working on it in the coming months".
Timedial
Looks good! Actually works quite well. You can add your logo to the invoice, it is missing some basic fields, such as ABN field, however you can play around with the address field to make it suit your needs. You have three different invoice templates to choose from.
Once you have set up all your preferences, you can add your clients, not all their details come over to the invoice. Then add a project for each client. You simply then just go to TIME, and select your project and client.
When you are ready send an invoice. Go to invoices tab, select the client, and create. This will bring up all the times for that client. The Invoice has American dates and you can't change to Australian. Edit as you like. And save. This is where it gets a little complicated. You can chose to send the invoice via timedial email. The email has a link, not an attached PDF! The good thing is your clients can see all their invoices on the link that they have paid or not paid. You can print your invoice to scan or give to them and print as a PDF. The PDF copy has timedial on it and has a link on the bottom, when you click on the link it takes you to the invoice and the client can print from there. The timer doesn't do seconds and you can't see the clock ticking over. I prefer to watch the clock, particularly if a client has only given me 2 hours to complete a task! I also like to send my invoices via my own email, I like to add a personal note. I think if you don't mind Timedial branding, it is worth testing this app out.
Zipbooks
**UPDATE** I thought this app was the best, turns out, I was wrong! I was on the free trial despite having canceled it! Never mind. You can't do time tracking on the free version!. Takes a bit of time to navigate and you are limited to what you can customise. However you can add unlimited number of clients. You can add your logo, though it is tiny on the invoice. There is no field for your ABN number. I played around with the address field to make the invoice work for me. There is a preference section to customise your projects / invoices, make sure you choose the correct country for your currency! What I LOVE about this app is I can set the timer, get on with my work. I can start and stop for loo breaks! Very easy to use. Then when I create an invoice, I simply add timer "import tracking time" and it adds the lines. It adds all the starts and stops, so you will need to check your line items. My clients don't need to see how many times I peed through the day!!! The invoice is easy to download (you can email from Zipbooks, however I prefer to do it myself). You can also add 'integrations' for accepting money. Again, I don't do this.
A few months on from writing this post. I decided to go to a paid time tracking and invoicing. The money I spent is worth it. I am using Rounded. It has limitations and is not accounting software, for example you can't void an invoice. The time tracking has limitations. It is not perfect. When I create an invoice it brings all my timing over and I can easily edit and make adjustments. The invoices converts the time, so that it is calculatable. This feature is a bit annoying as you need to know that .25 is 15min. Also once the invoice has been created, you need to go back and delete your time tracking. You can delete a project and that will take out the times.
Take care and speak soon